Musical Practice and Academic Teaching

THE SILESIAN CANTOR KLEIN'S COLLECTION AND THE BEGINNING OF MUSICOLOGY IN BONN
Around the turn of the year 1829/30 a vehicle arrived at Bonn Universit bringing two "weighty" boxes from Berlin. These contained music supplies from the inheritance of the Protestant Cantor Christian Benjamin Klein (1754-1825) in Schmiedeberg in Silesia (Polish: Kowary). At the handover at that time there were 544 hand-written and printed musica practica and 144 "Books on Musical Art".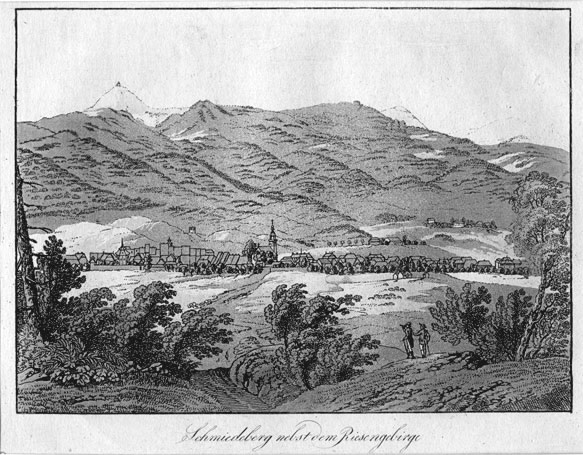 (Schmiedeberg nebst dem Riesengebirge)
The transfer of this collection to the Rhineland by the Prussian Ministry of Culture as a present of King Friedrich Wilhelm III, hab been arranged by the first Academic Music Director "for Aesthetics and History of Musical Art" at our local university, Dr Heinrich Carl Breidenstein (1796-1876). This collection formed a main source for the academic practical and theoretical music training in Bonn for a long time.
The "Klein Collection", still preserved today partially in the Department of Musicology/Sound Studies of the university, partially in the University and State Library in Bonn, bears witness to intentions to collect and to use which extend beyond regional, national and religious boundaries.
As a collection preserved relatively compactly, it documents authentically the respectable level which church music in a small Silesian town at the turn of the 18th and 19th centuries was able to achieve.
The exhibition showed the profile of this collection as well as the backgrounds of its transfers in the context of the Church Music Restoration Movement, Prussion cultural policy and the interests of the early German academic musicology at the young University of Bonn.
Conception of the exhibition:

Dr. Lucian Schiwietz
(Research Project)

Dr. Peter Stauder
(University and State Library)
We want to thank the following institutions for their loans:

The exhibition took place from September 28th to 3rd December 2005 in cooperation with the University and State library of Bonn.

An accompanying booklet has appeared which we will be glad to send to you. Please remember to give us your postal address (by phone or by e-mail) if you are interested.